Via Bona Slovakia Awards encourage companies in Slovakia to do business fairly
Each year the Pontis Foundation awards outstanding projects and companies' responsible approaches which change Slovakia for the better.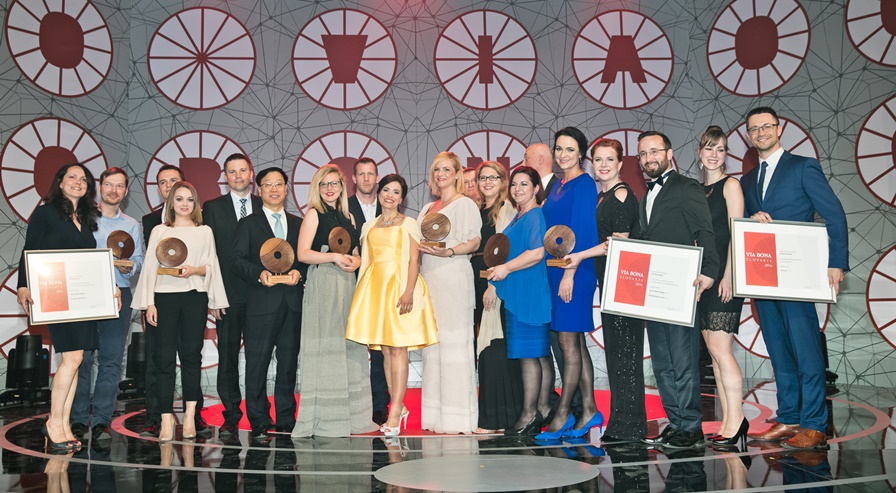 Did you know that...?
Via Bona Slovakia is the only award which has been making visible examples of corporate social responsibility and inspiring other companies in Slovakia since 1998. In the past years we have set a high benchmark for the quality of the evaluation process, thanks to which the awards have earned a strong reputation among companies.
We received 71 nominations for the Via Bona Slovakia Awards 2016.
Since 1998, 368 companies have applied, sending in 958 nominations, and the Pontis Foundation has conferred altogether 116 awards and 39 certificates of merit.
This is the eighteenth time that the Pontis Foundation is looking for companies which do their business fairly and responsibly. Small and large companies can nominate their projects and inspiring stories for the Via Bona Slovakia Awards 2017 by 15 January 2018.
"We are delighted that there are more and more companies in Slovakia which run their businesses fairly and responsibly. Companies which value their people and try to motivate and actively engage them in their responsible projects. Companies which are cultivating their surrounding and improving the life of the community in which they operate. Companies which are not destroying the environment and the landscape around them, but which are affecting positive change for people and Slovakia. Companies which are engaged in responsible activities over and above statutory requirements. It is these companies that we are looking for within the Via Bona Slovakia Awards," explains Lenka Surotchak, Director of the Pontis Foundation.
The category of Social Innovations is a novelty
The Pontis Foundation has been awarding companies for their outstanding projects in the area of corporate social responsibility and corporate philanthropy since 1998. This year it is going to confer the Via Bona Slovakia Awards in seven categories, including the new and separate Social Innovations Award. "We want to bring attention to projects which address an important social issue and have the potential to change the approach to solving a particular issue. This special award will go to projects which overcome the traditional view of the division of roles between individual sectors, create social and economic added value through cooperation between private, state, and non-governmental sectors, and thus contribute to the common good," explains Lenka Surotchak. The awards are conferred by an independent committee composed of representatives of the business sector, the public administration, the non-governmental sector, and educational institutions based on companies' nominations and personal presentations. This year the Pontis Foundation is also going to confer the Public's Choice Award. Anybody will be able to vote on the award at the main media partner's website.
This year we are going to confer two special awards
Via Bona Slovakia Awards 2017 will involve two special awards. In cooperation with the Ministry of Labour, Social Affairs, and Family of the Slovak Republic, the Pontis Foundation is going to present a special award to Family-, Gender Equality-, and Equal Opportunities-Friendly Employer 2017. We are looking for inspiring companies which have created corporate cultures promoting mutual respect, trust, empathy, education, and inclusion in the workplace. "Employees who are diverse in age, gender, nationality, and disabilities adapt to growing demands of the market and customers for the quality of goods and services much more easily," says Michal Kišša, Programme Director at the Pontis Foundation and Executive Director of the Business Leaders Forum.
The Pontis Foundation is supporting any effort to meet the 17 Sustainable Development Goals (SDGs), which were unanimously adopted by 193 UN countries and which set a new universal standard for sustainable development which aims to ensure that no one is left behind. Therefore, the Pontis Foundation and the Deputy Prime Minister's Office for Investments and Informatization of the Slovak Republic are going to present a special Award for a Contribution to Meeting Sustainable Development Goals 2017. We are going to award companies or a group of partners who have made some of the 17 SDGs part of their corporate values and programmes and whose projects and solutions contribute to meeting these and have both present and long-term effects.