More Kenyan students will be able to study with computer and internet
Students of three Kenyan secondary schools start a new school year with just competed computer labs.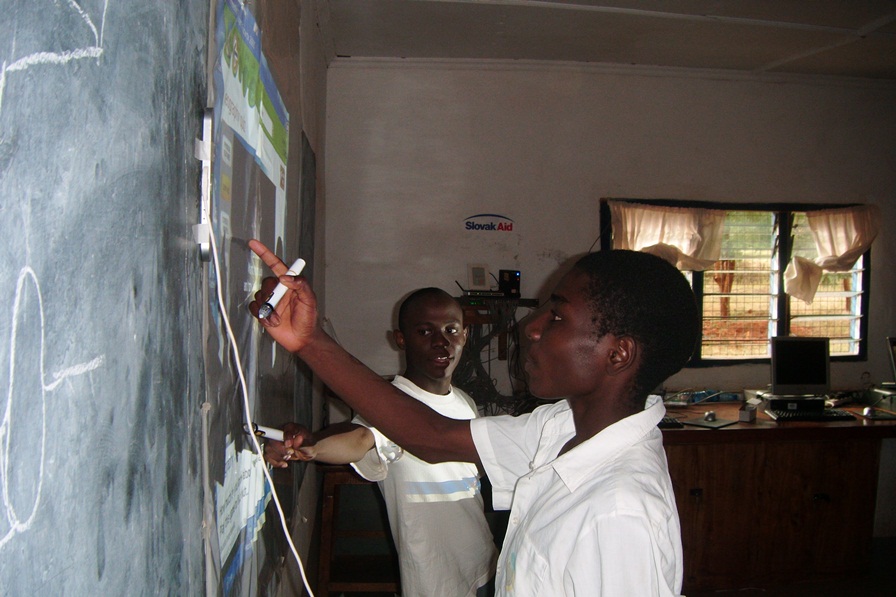 December 12, 2011 - In January 2012 will students of three Kenyan secondary schools start a new school year with just competed computer labs and thus will be able to study using ICT. Most young Kenyans have a limited access to computer skills, which translates to a severe disadvantage in the job market. The aim of school digitisation is to bring more learning materials and mitigate the problem of high teacher to pupil ratio. ICT makes learning not only more visual, but allows for more interaction between students and gives them skills and knowledge to better compete in the labour market.
Three village schools situated in Southeast Kenya (in Marungu, Mwaghogho and Mwambiti) received together 30 computers with other technical equipment within the project Slovak-Kenyan Cooperation for Modern Schools, that Pontis Foundation has implemented in this region since September 2011. "We established computer labs at the schools with the internet connection. Students as well as teachers are now going to be able to start the new school year in January with the new digital technologies." Jakub Šimek, the Pontis project coordinator, said.
High school in Kajire is also waiting for its computer room, but first of all, it needs to fix its problems with the electricity. "Our goal is to enable the Kenyan students to gain the best knowledge in the field of information and communication technologies. Kenyan teachers will also take part in the trainings and exchange study trips in order to share experiences with the Slovak ones. This time they will share experiences with the Slovak teachers from Business Academy in Levice," Jakub Šimek is explaining.
The project Slovak-Kenyan Cooperation for Modern Schools is based on now successfully completed project of Pontis Foundation at two schools in Rukanga village in the Voi district of Kenya. "Teachers from Moi High School – Kasigau, where we established the computer lab and another ICT room last year will be also cooperating in the current project. Moi High School has achieved a remarkable progress in the school performance of its graduates in KCSEs exams thanks to such digitalization," Jakub Šimek thinks. Moi High School was in 2009 near the bottom of the both district and province school ranking in the leaving exams results (KSCEs). But after the project as over, in August 2011, it scored as the second best from 13 schools in the Voi district and as 10th from 46 schools in Taita – Taveta Province.
Computer courses are obligatory for all of the Moi High School students and teachers should teach at least one hour per week using the data projector and interactive whiteboard. "Because Moi High is a boarding school, students can make use of computers and internet access also in their free time. Parents can check the study results of their daughter or son by sending an SMS thanks to the customized school management system that administers the results."
According to Jakub Šimek, supporting the young generation's education and skills needed for accessing the labor market is the best prevention of poaching and natural resources exploitation in the region as well as the migration of local youth to urban slums. Moreover, the Pontis Foundation believes that familiarity with ICT will increase chances of the region's people to develop eco-tourism – a crucial economic sector for South-Eastern region of Kenya that includes big national parks of Tsavo.
The project Slovak-Kenyan Cooperation for Modern Schools is implemented in cooperation with Pontis Foundation´s Kenyan partner - Youth for Conservation. The project is supported by official Slovak development cooperation from the funds of SlovakAid.
Autor: Simona
Comments