Pontis Foundation celebrates 19 years
In 1997, we established the Pontis Foundation for a Civil Society, later succeeded by Pontis Foundation.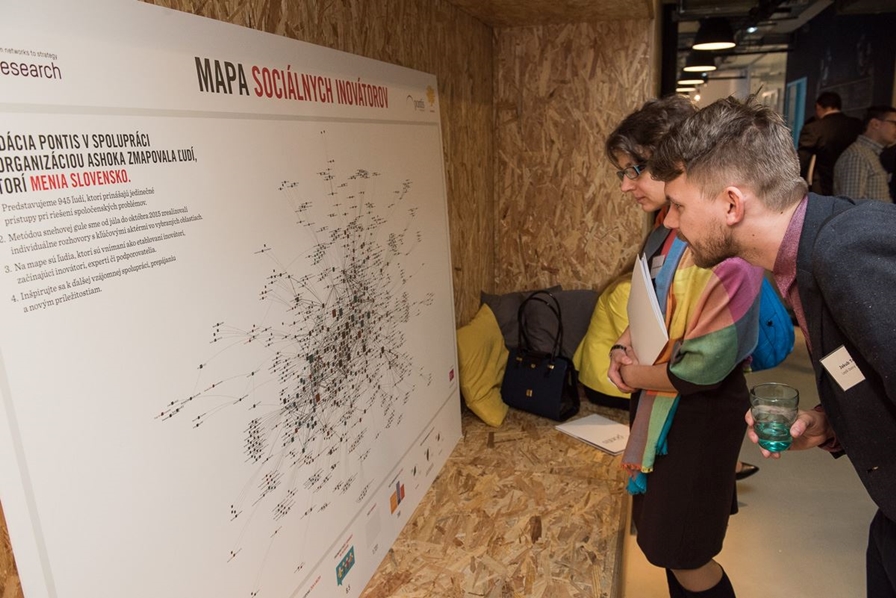 This map is showing group of various people, who are known as bearers of positive changes.
2015 ... the year we built a map of social innovators
In 2015 we continued the tradition of handing out the prestigious Via Bona Slovakia Award. For the 16th time we awarded the most inspiring corporate philanthropy and corporate responsibility projects. The CEE CSR Summit was attended by over 130 CSR experts and managers of communication and sustainability. The Business Leaders Forum (BLF) underwent a lot of changes – the organizational rules of the association were upgraded and a new BLF president was elected along with new board members. Besides these changes, we also got a new BLF executive director – Michal Kišša.
We continued with corporate philanthropy. In 2015 we oversaw eighteen funds from different companies which were used to create a better environment for people with disabilities. Our social projects tried to tackle poverty and other critical social issues, such as fighting unemployment and supporting education, community projects, culture, and health care. We organized the Corporate Philanthropy Forum, where individual contributions to change were discussed. Another of our projects was the Fail Fair, which we organized for the third time. Ten speakers came to talk about their failures and to remind us never to give up.
The Great Country Fund raised €113,103.28. This money was split among fifty-six different projects aimed at human rights, education, health care, and other areas. Heart for Children, which is another charity project, raised €440,000, directly helping 316 children facing health or social problems.
The largest corporate volunteering event, Our City, was held in June. Over 800 volunteers took part! We established cooperation between lawyers, law firms, and non-profit organizations through the Pro Bono Attorneys programme. Twenty-seven attorneys and law agencies were involved in thirty-eight legal cases. Another volunteering opportunity was provided by the Engage group of companies, which enables members' employees to get socially involved. Engage had twenty-two members in 2015.
A map of social innovators was created thanks to our cooperation with Ashoka. This map presents over 900 people who contributed to the improvement of education, social inclusion, active citizenship, and democracy and community development. In 2015 we organized the Development and Democracy International Conference, where we discussed the possibilities of cooperation in development in the future. In cooperation with the University of Michigan, we organized a four-day training programme to strengthen civil society for twenty representatives of Belarus, Russia, Ukraine, Kazakhstan,Kyrgyzstan, Moldova, Slovakia, Macedonia, Serbia, Kosovo, and Tunisia. We educated Kenyan youth on how to increase their employment chances. We modernized twelve Kenyan schools, helping over 5000 students. We also worked with schools in Kosovo, Moldova, and Belarus. We once again tried to establish development education at Slovak universities as well, making this a public issue.
2014 ... the year we started to strategically tackle homelessness
Dobrakrajina.skis where we received donations for the 4th edition of the Heart for Children charity project, which was able to raise enough money for hospital equipment which now helps over 17,500 children. The BLF celebrated its 10th anniversary. To celebrate, we organized a meeting of the CEOs of all the member companies, where an upgraded version of the 2020 BLF Memorandum on corporate social responsibility was signed.This was a reaction to the Enterprise 2020 initiative.
The Pro Bono Attorneys programme continued successfully. Attorneys in this project offer free legal help to solve the problems of non-profit organizations. In 2014 they helped 32 NGOs in forty-one different legal cases. Within this programme, we started the Pro Bono pilot project, which consists of a small group of experts and which aims to help the homeless in Slovakia on a systematic level.
We ran projects in Kenya, Moldova, Ukraine, the Balkans, Tunisia, and Russia. We operated mainly in those countries which Slovakia's official development assistance has identified as priorities.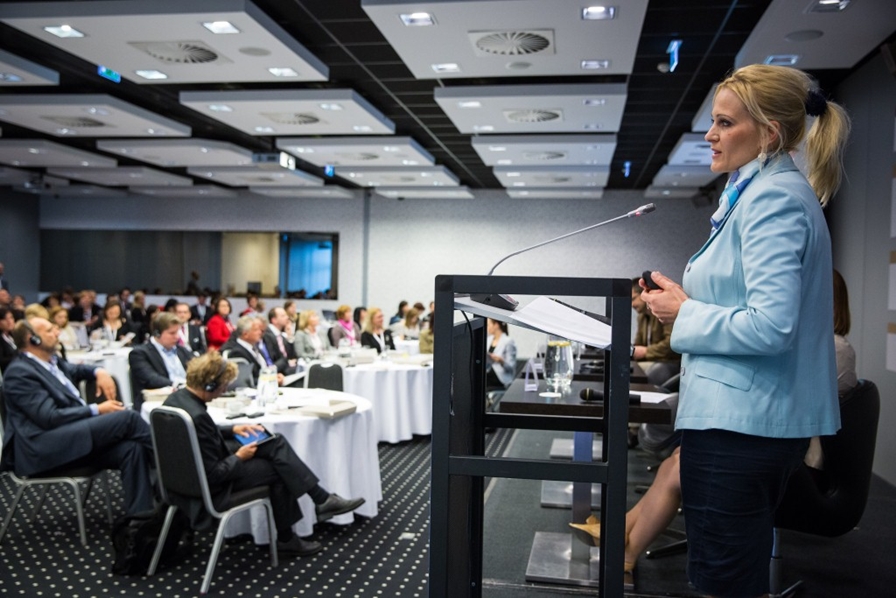 The CEE CSR Summit is the biggest event on corporate responsibility in Central and Eastern Europe.
2013 ... the year we launched a 24-hour public collection for the Great Country initiative
We co-founded the Association of Company Foundations (ASFIN), which connects the eight largest company foundations and funds in Slovakia along with the Centre for Philanthropy. The aim of the association is to improve ethical and transparency standards in corporate donations and to increase the efficient use of "2% of income tax" donations. For the first time, we organized an online collection called "24 Hours for a Great Country". We received contributions from nine different organizations. In just one day we raised €5,530.
In Bratislava we organized the biggest CEE CSR Summit in Central and Eastern Europe. One hundred and fifty people attended the summit, listening to twenty-nine speakers from nine countries. The week of corporate social responsibility also had events open to the public in the form of documentary movies and informal debates. Through sixteen funds we were able to co-finance non-profit organizations, which have an irreplaceable role in today's society. The Our City event had never seen as many volunteers as in 2013, with there being more than 6000 people from eleven Slovak cities.
We began to operate in Russia, where we organized a project with the objective to strengthen the institutional and management capacities in selected local NGOs which are the leaders in Russian civil society. We continued to work in Kenya, where our project was expanded to ten secondary schools. In cooperation with the Ministry of Foreign and European Affairs, we organized a two-day international conference called "10 years of SlovakAid: a Vision of Development Cooperation in a Changing World". The conference took place to commemorate SlovakAid's tenth anniversary.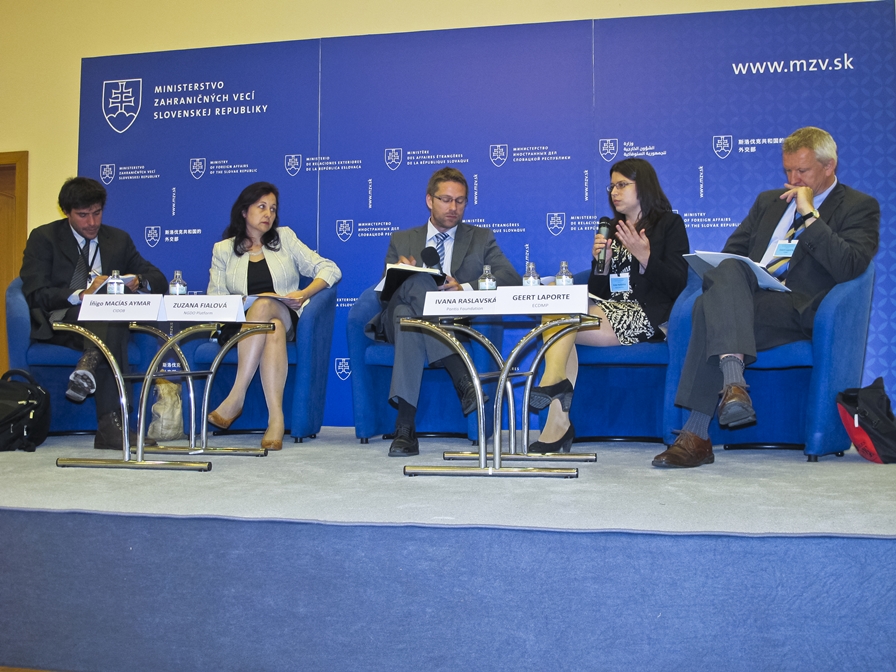 The Development and Democracy International Conference took place under the auspices of the Ministry of Foreign and European Affairs of the Slovak Republic.
2012 ... the year of development and democracy
In 2012 we successfully continued in our education initiatives in small and medium-sized companies in Slovakia. We organized multiple professional events on CSR topics and for the twelfth time we presented Via Bona Slovakia Awards to the best company projects dealing with corporate social responsibility and corporate philanthropy. The Pontis Foundation and the BLF organized the ninth edition of the International Conference on Corporate Responsibility. Based on an initiative from BLF member companies, the Fund for a Transparent Slovakia was established. Its goal was to improve company ethics, transparency, and democracy, and create a healthy corporate environment in Slovakia using the institutional support of watchdog organizations. Eleven Slovak towns participated in the Our City project, along with 150 organizations; there were almost 5000 volunteers from the companies involved and from the general public. Corporate philanthropy was developed using fourteen funds. We organized the first Development and Democracy International Conference, which aimed to bring attention to current issues of development cooperation. The Slovak Ministry of Foreign and European Affairs also supported this conference. Development projects were carried out in the Western Balkans, Belarus, Moldova, Kenya, and Tunisia. In 2012, we were tirelessly working on improving development education, especially for university students who are interested in development cooperation topics. We published three books on development issues and made them available online.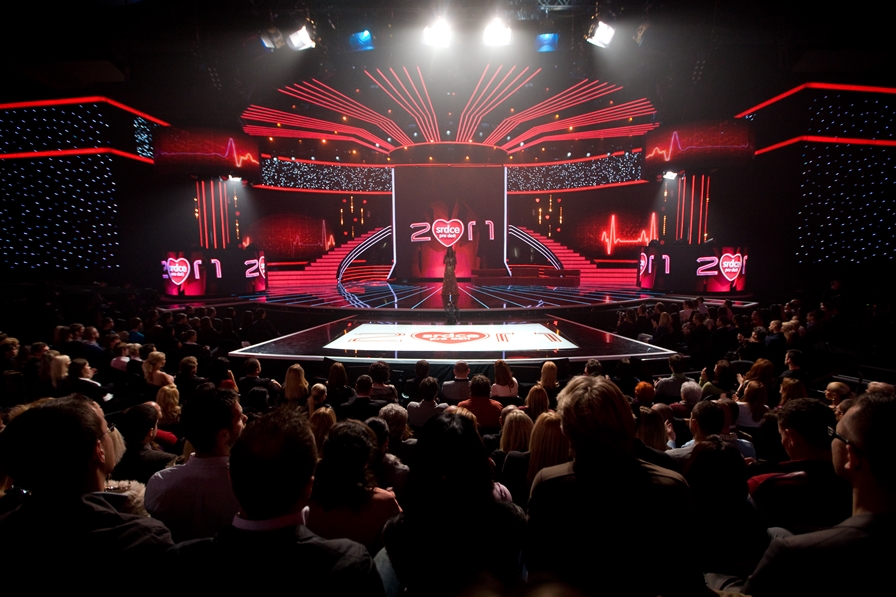 The aim of the Heart for Children programme is to help improve the lives of children suffering from severe health and social disabilities.
2011 ... the year we teamed up with the Nový Čas newspaper in order to help children through the Heart for Children programme
We were in the first year of the Heads Are Helping corporate volunteering project. In 2011 we started the Pro Bono Attorneys initiative, which offers free legal help to NGOs. Nearly seventy Slovak attorneys are members of this initiative. In cooperation with Ringier Axel Springer, we launched a successful charity programme called Heart for Children. Its main objective is to help children suffering from severe health or social problems. DobraKrajina.sk returned to the Pohoda festival and the Our City project expanded out of Bratislava, Košice, and Žilina to smaller towns like Hlohovec, Galanta, and Sereď, making it possible to engage an unprecedented number of corporate volunteers – an amazing 4000 of them.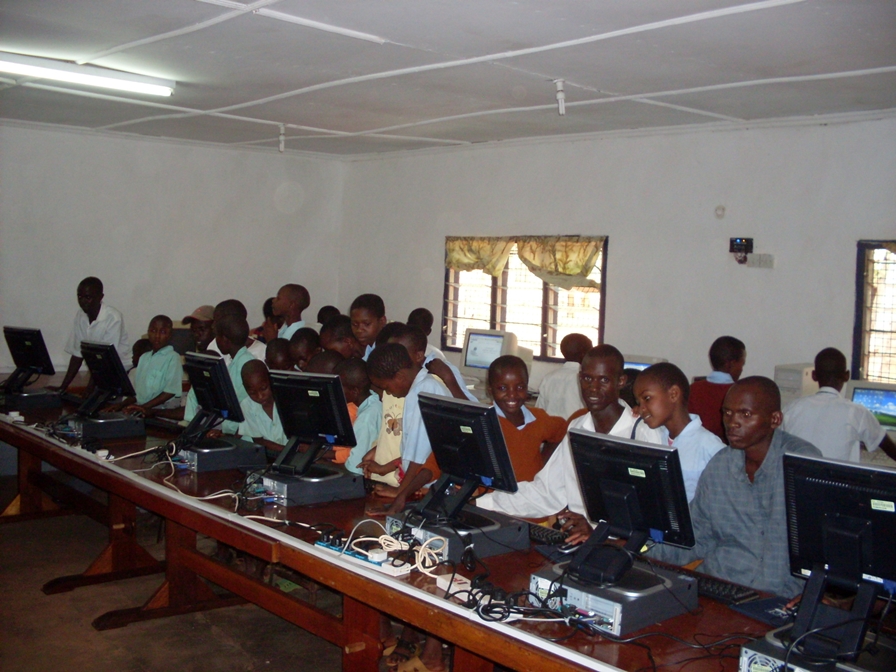 The Pontis Foundation started working in southeast Kenya in the Taita Taveta region.
2010 ... the year when we launched our first project in Kenya
We celebrated the tenth anniversary of the prestigious Via Bona Slovakia Awards, which honour interesting and inspiring projects by socially responsible companies. Thanks to the support of the BLF and their employees, the children whose homes were most affected by flooding were able to attend summer camps. We established a new work group called BLF Climate Change, and, in cooperation with the Norwegian Embassy and Innovation Norway, we organized the Modern Companies in a Modern Society Conference, which was attended by King Harald V of Norway.
To support the World Carfree Day initiative, the Bratislava In Line cycling event was expanded to the city of Žilina with the help of the Mulica non-profit organization. We continued to organize energy efficiency workshops for small and medium-sized companies in Banská Bystrica and Košice. We also launched a new project for development cooperation in Kenya focusing on increasing the computer literacy of Kenyan students and their teachers.
We want Slovakia to become a great country. And it will be thanks to the Dobrá krajina (Great Country) programme.
2009 ... the year we launched DobraKrajina.sk
We launched a private donation website called DobraKrajina.sk, making it possible for everyone in Slovakia to support those non-profit projects they feel most strongly about. For the first time we organized an essay competition – all the essays had to be about helping developing countries. Based on the success of the Our Bratislava event, we decided to bring this concept to Žilina, where a volunteering event called Our Žilina later took place. We launched a new website for corporate social responsibility at Zodpovednepodnikanie.sk.
We participated in the European Mobility Week by organizing a workshop with the Bratislava City Council and having a night bicycle ride through the city.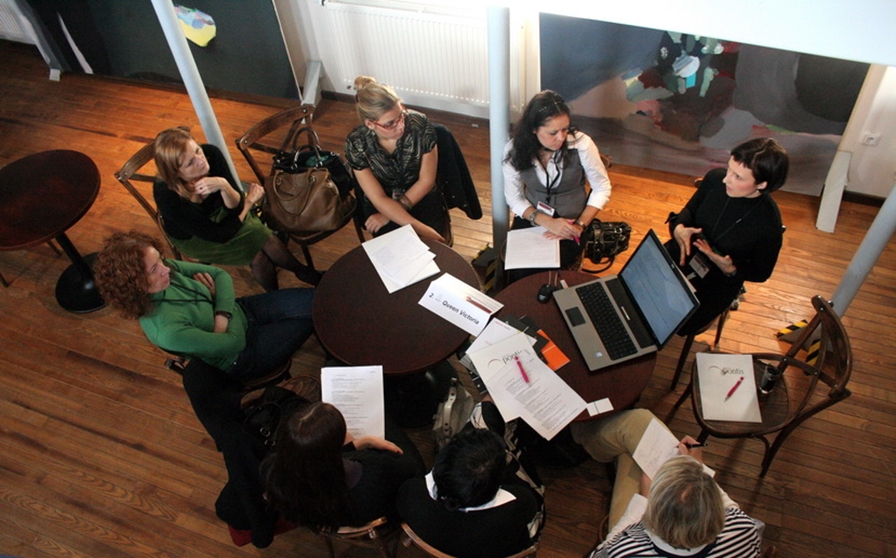 The Corporate Philanthropy Forum took place for the first time in 2008.
2008 ... the year we launched the Corporate Philanthropy Forum
Ideaxchange became the Non-Profits Marketplace. We organized workshops about corporate social responsibility for small and medium-sized companies. We founded Pontis n.o. as a non-profit organization, and we organized the Our Bratislava corporate volunteering event as well as the Our Košice volunteering event. We continued to educate the public about the importance of development help. We organized the first Corporate Philanthropy Forum.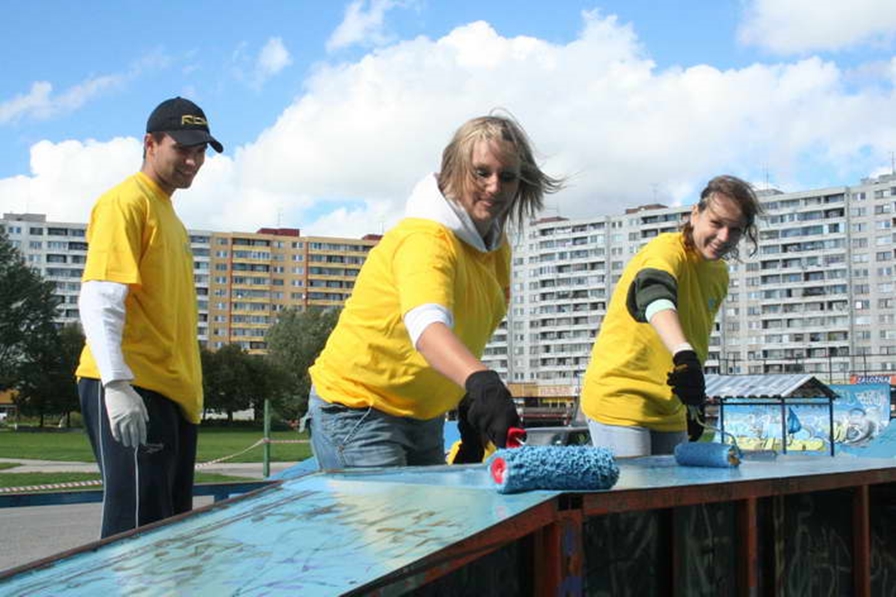 Our Bratislava grew to become Our City, which is the largest corporate volunteer event in Slovakia
2007 ... the year we organized the first Our Bratislava event
Seven companies received 222 grants from our nine grant programmes. The donations amounted to 19 million Slovak crowns, and we distributed 266 refurbished computers. We organized the Serbian Days in Slovakia event. We organized the first year of Our Bratislava – a volunteering event in the capital. The Ideaxchange non-profit marketplace expanded from Bratislava to other cities such as Nitra, Liptovský Mikuláš, and Košice. In cooperation with the Ján Langoš Foundation, we presented the first international Ján Langoš Award. Our Balkan Studies course received accreditation from the Slovak Ministry of Education.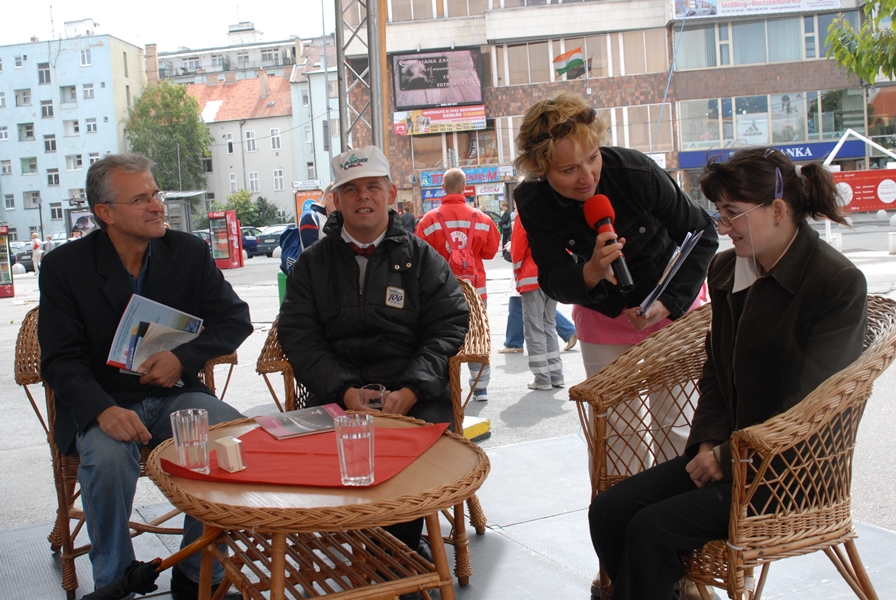 The marketplace of ideas in 2006 went something like this.
2006 ... the year we gave non-profit organizations a place to exchange ideas
We organized the first Ideaxchange non-profit marketplace. We started a one-semester course on corporate responsibility at Comenius University'sFaculty of Social and Economic Sciences. We introduced standardized community investment as an evaluation method for our community investments. We co-founded the Office for a Democratic Belarus in Brussels. We organized a visit to Slovakia by Alaksandar Milinkievič – a leader of the Belarusian opposition movement. We started our first semester-long courses about the Western Balkans at two Slovak universities. We also started an advanced Balkan Studies course.
2005 ... the year we teamed up with Belarus
We founded the Slovak-Belarus Task Force. We carried out the second public poll on corporate philanthropy in Slovakia and added a section about corporate social responsibility. Thanks to working with the International Republican Institute, we received a visit from Zhanna Litvina, an independent journalist from Belarus and a European Parliament Sakharov Prize winner. For the first time, we organized a contest for the best diploma thesis on a Western Balkans issue.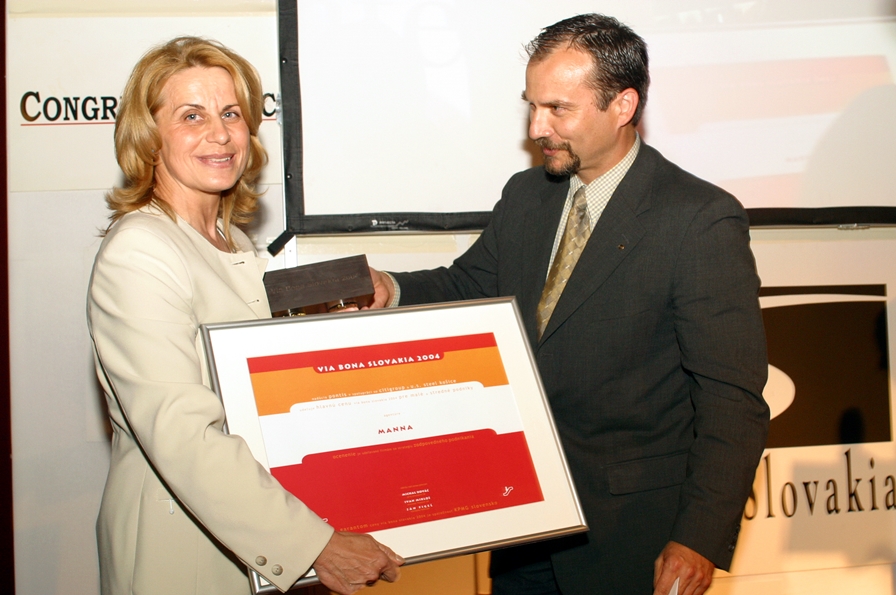 The first Via Bona Slovakia Award for Corporate Social Responsibility was presented in 2004.
2004 ... the year we brought the idea of corporate responsibility to Slovakia
We founded the Business Leaders Forum (BLF), which is an informal association of companies pioneering corporate social responsibility in Slovakia. We organized the first conference about corporate social responsibility in Slovakia.
We started two youth groups in two cites in Serbia (Smederev and Smederevska Palanka). We launched an economic reform project in Belarus, and for the first time we ventured to Cuba in order to present the money from public donations to the wives and husbands of political prisoners.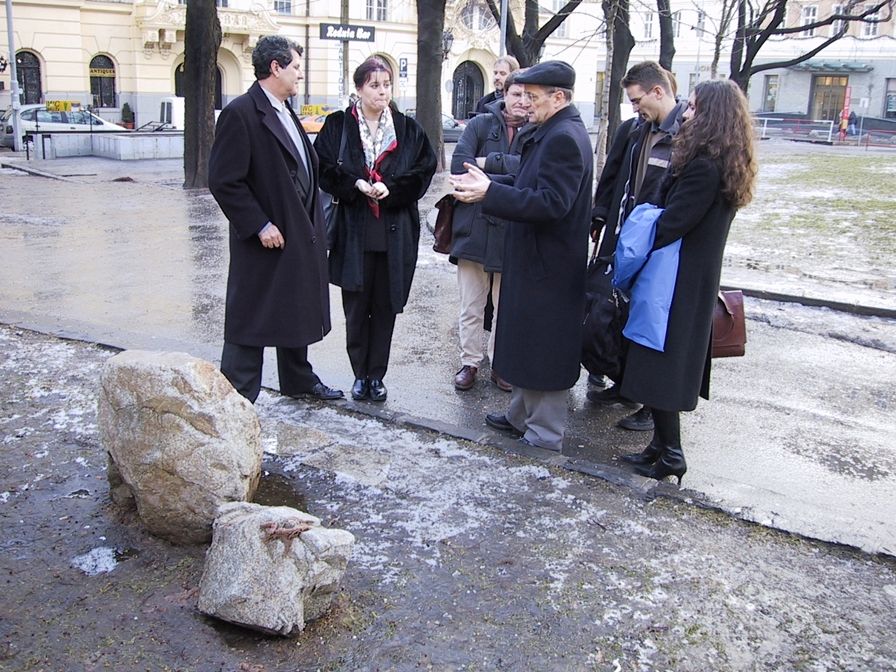 The Cuban dissident Oswald Paya visited Slovakia.
2003 ... the year we focused on company foundations and Cuba
The Pontis Foundation gave the first loans for NGOs. In 2004 many companies, such as Tesco Stores, ZSE Energia a.s., and VSE Holding a.s. started putting money into company foundations. We established partnerships with think tanks and analytical groups in Belarus.
Oswald Paya was the first Cuban dissident to visit Slovakia. With the help of the People in Peril civic association, we were able to collect a significant amount of money through public donations and help the families of Cuban political prisoners from the spring of 2003. Part of the money also went to the Ladies in White movement, which is run by the wives and mothers of Cuban dissidents.
2002 ... the year we founded the section for Democratization and Development Help
Once again we organized the Rock the Vote campaign and we helped establish the Democratization and Development Help programme.
2001 ... the year we became the Pontis Foundation
The Foundation for a Civil Society was renamed and became what we now know as the Pontis Foundation. Thanks to working with NGOs in Belarus, we already had experience with voter mobilization and the creation of coalitions before the presidential election.
2000 ... the year we informed Slovaks about their rights
We played a crucial part in overthrowing Miloševič's regime in Serbia. By sharing our experience with the Otpor! movement, we achieved his defeat in the presidential election. Since 2000, we have been in touch with NGOs in Belarus. In Slovakia, we were working with different organizations, tackling a multitude of issues having to do with public administration even before the parliamentary election in 1998. We focused on model projects which dealt with the rights of disadvantaged groups in Slovakia. Our field work confirmed that Slovak citizens are trying to put pressure on their representatives and that they want to freely express their opinions, but due to the lack of information about their rights and obligations, they are unable to do so effectively. In an attempt to fulfil this need, we put together the Pocket Citizen programme and booklet – a British concept which was brought to Slovakia.
1999 ... the year we started helping outside of Slovakia
The success of our Rock the Vote project and the knowledge and skills gained from it were put to good use in Slovakia and formed the inspiration for similar "get out the vote" projects in partnership with NGOs from Croatia and Ukraine. The result of this cooperation was an international project called Rock Volieb Export(Rock the Vote – export version). A later form of international collaboration was the Partnership for Democracy programme, which we created with organizations from Yugoslavia, Bosnia, and Romania.
In 1999 we continued to provide funding and further education to those in need. We used the individual donors' funds raised for a Roma community development programme, which was to aid the specific needs of the Roma minority in Slovakia. This experience made us realize the need to focus more on issues of discrimination affecting all disadvantaged groups in Slovakia. The Equal Chances programme was aimed at those who influence public opinion. We worked on a booklet for journalists and on a media campaign in order to educate the general public about these issues.
1998 ... the year we encouraged first-time voters to act
As the need for development of corporate philanthropy in Slovakia grew, we put together a Code and Rights of Donors document,and we organized a series of business breakfasts where entrepreneurs could discuss the potential benefits of supporting NGOs in the communities in which they work. In 1998 we started presenting Via Bona Slovakia Awards to companies with the best projects in the area of corporate philanthropy and corporate social responsibility. We continued to share our corporate expertise with other Slovak NGOs.
We also played a crucial part in shaping and defining the role of NGOs in a civic mobilization campaign before the 1998 parliamentary election, as well as in sharing international experience and donors. Along with eleven other Slovak NGOs, we formed a coalition called Civic Campaign '98, which coordinated the pre-electoral activities of all Slovak NGOs. The objective of this project was to raise voter awareness and turnout.
In 1997 we had noticed there was a lot of potential in first-time voters, and while working with our Californian partners we launched a motivational campaign called Rock Volieb '98 (Rock the Vote '98). This campaign was designed to cater to young voters' needs, which we achieved thanks to experts from the Hlava 98 civic association. The strong message of this campaign was "Making a choice will rock your world!" and "Your voice is heard". This project, which was described as a movement by many observers, made a considerable contribution to the highest ever number of first-time voters actually taking part in the election; more than 80 percent of them participated, compared to just 26 percent in the previous election. Both young and old citizens made an impact in the 1998 election.
1997 ... the year the Foundation for a Civil Society was founded
We founded the Slovak branch of the Foundation for a Civil Society because we felt a need for a movement that would deal with civil society development issues and the organizational problems of local non-profit organizations in Slovakia. One of our first projects was a four-year grant programme called Democracy Network (DemNet), which had a budget of US$3.3 million. This project introduced the concept of civic engagement in public matters to the general population. Working on this project, we were able to gain experience in building democratic institutions and economic development, while not ignoring environmental issues. We also supported social reform projects.
Thanks to a multitude of experts, who we consulted when evaluating grant applications, we became one of the first institutions in Slovakia which was able to introduce the concept of transparent fund contribution, which is now used by a number of other Slovak foundations. We organized our first volunteering project, called Donate an Hour of Your Time, and carried out the first NGO institutional maturity poll. It evaluated the organizational development of over 200 Slovak NGOs. We then gave individual consultations to forty of them to help them improve their performance.