Our services and training topics
Transferring our know-how abroad
Providing consultations and know how
Just as Slovakia was supported by developed countries during its transition to democracy, we also consider it important to share our experience from that journey with countries in need of such support. Our activities aim to spread the idea that globalisation and contemporary technological progress do not respect politically defined borders and that they influence people anywhere in the world. Thus we focus on areas of Global Active Citizenship Education, Official Development Assistance and ODA building and cross-sector dialogue. We organise study and advocacy visits to Brussels, internships in Slovakia, mentoring for analytics and experts from Eastern Partnership and the Western Balkans. We provide small grants and lead working groups, e.g. in the area of Global Education. We cooperate with actors in Kenya and Slovakia in the field of education, training firms and start-ups.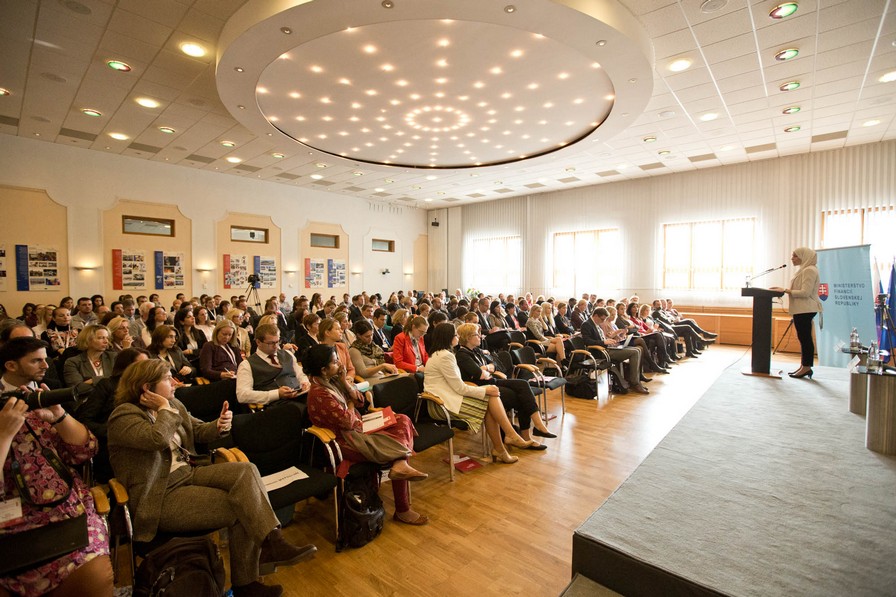 Advocacy trainings
The training helps to develop skills in lobbying, advocacy and government relations. Pontis Foundation cooperated with government in adoption of various policies and strategies in areas of philanthropy (2% tax assignation law), social enterprise, global education, CSR, development cooperation and foreign policy. The training helps NGOs to create a strategic action plan for networking, outreach, policy formulation, effective communication and issue-based campaigning.
Cross-sector cooperation
Based on our Slovak experience, we provide our foreign partners with practical tools and strategies how to engage companies into philanthropic and CSR activities. NGOs need to speak the language of the corporate sector and learn how to promote their projects to companies and articulate mutual benefits.
Project and financial management, monitoring and evaluation
Foreign and corporate donors require detailed reporting and proofs of effective spending with clear value for money. We train NGOs on proposal writing, budgeting, reporting and organization of activities and events. Measuring impact of project activities and detailed evaluation of the results helps NGOs to learn from more or less successful projects and provides important source for further development.
Fundraising, proposal writing and communication
The training helps NGOs to create a strategic communication and fundraising plan and provides examples from the latest campaigns and international best practices. It provides essential overview and information on available institutional funding and funding procedures.
Development and Democracy Conference
The conference is a platform for international academics, CSO and government professionals to discuss modern trends in development cooperation and development theory.
Mainstreaming Responsible Entrepreneurship, Skills Based Volunteering and Pro Bono

Via Bona Award
Via Bona Slovakia is an award for corporate responsibility and corporate philanthropy. Pontis Foundation started the award 17 years ago. Via Bona is a project lasting for six months. After the 2 month preparation stage, the official opening of the competition is in third month. Processing of the nomination sheets in different award categories is followed by their evaluation by an evaluation committee and the results are presented at a gala evening when an information campaign on the winners and winning projects is be launched.
Business Leaders Forum know - how
BLF is a platform of companies that actively engage in CSR and share their best practices and develop joint strategies. New members are voted in and must sign Social Responsibility Memorandum. We established BLF in Slovakia in 2004 and helped to establish BLF in Serbia (2008) and in Macedonia (2010). The Pontis Foundation also administers a corporate volunteering platform ENGAGE and helped developing similar platforms in Western Balkans.
International conference on CSR
The program of the conferences is prepared especially for the following target groups: for CR managers, the top management and general managers, HR managers and internal communication managers, external affairs managers of Slovak top companies, for journalists and the media; as well as for the academia, university students as well as for the employees of the Ministry of Economy, the Ministry of Social Affairs and Family, the Ministry of Environment, the Ministry of Finance with the relevant agenda.
CSR training for companies and NGOs
The training covers practical and concrete examples of corporate responsibility – both from Slovakia and from abroad: introduction of the basic terms; the philosophy and values of corporate responsibility; a brief development in the world, global trends and SDGs; motivations, the importance, benefits and obstacles of CR; areas of corporate responsibility; stakeholders and their expectations; corporate responsibility development in Slovakia and a brief comparison with the countries in the region; key persons involved in Slovakia; a brief review of the initiatives (activities, educational events, awards).
We focus on areas such as Work-life Balance, Cooperation with the suppliers, Circular Economy, Active Ageing.
We provide consultations and expertize on CR GRI G4 reporting and formal and contextual audits of GRI reports, CSR strategy planning and stakeholder dialogue.
Skill-based volunteering and Pro Bono
Corporate volunteering has been a growingly applied form of corporate philanthropy, when companies actively engage their employees in supporting community and volunteering activities. Instead of financial donations, they donate their time, energy, knowledge and the abilities of their employees. Through Skill-based volunteering employees of the involved companies pass on their business knowledge, experience and skills to selected non-profit organizations so that they can better fulfil their mission. The Pontis Foundation has established a tradition of 12-hour event Pro Bono Marathon – which has popularized the concept of pro bono services – as a means of capacity building of non-profits and social innovators. The Foundation helped developing similar platforms/events in Hungary and Georgia.
More than 6 years we develop Pro Bono Advocates programme and facilitate cooperation between law offices and initiatives who cannot afford legal consultations. We provide Pro Bono trainings for private enterprises which aim to include pro bono in the everyday practice of the private companies in Slovakia.
Our Town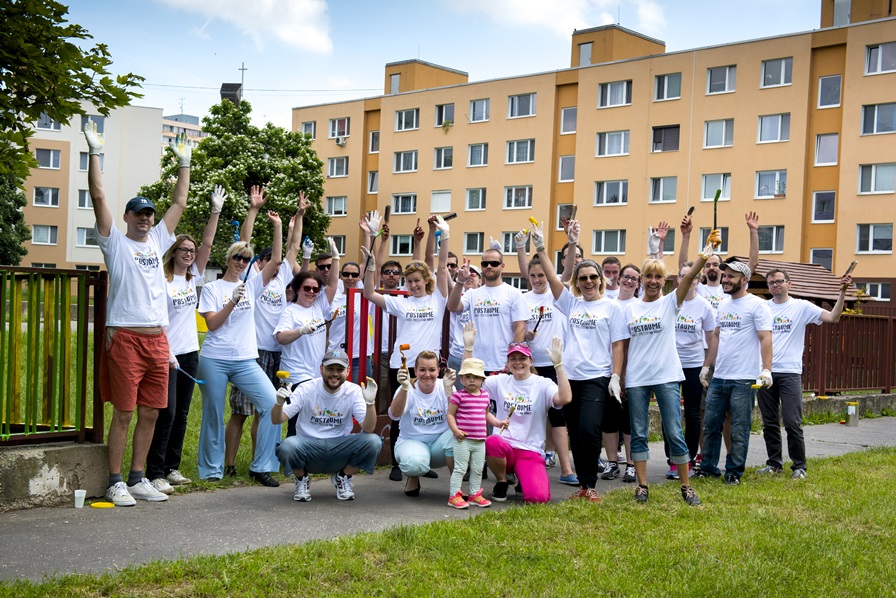 Since the first launching of the program Our Town in 2007, 60 companies and more than 5000 volunteers have participated in the program up to now. The event preparation starts 10 months before the date of its implementation. It includes the selection of non-profit organizations, company recruitment, creation of a website, trainings for the engaged non-profit organizations regarding how to work with volunteers, grants for the necessary equipment, communication with the media and with the cities, volunteer T-shirts, photo and video, monitoring and evaluation. We helped our partners to develop Our Town concept in Western Balkans.
We Manage Corporate Funds and Promote Corporate Philanthropy
Corporate funds management
We provide know-how in corporate gift-giving through separate foundation fund or corporate foundation in cooperation with Pontis Foundation. The company executes their gift-giving activities on a higher level, with greater benefits for both the community and the company, elimination of the associated administration, and assurance that all legal matters are followed.
Corporate Philanthropy Forum
The objective of the forum is to offer the company representatives practical tools to improve and increase the efficiency of their philanthropic activities and enable them to see the situation, possibilities and strategies and activities of other donors.
Social Innovations (promoting education and creating enabling environment)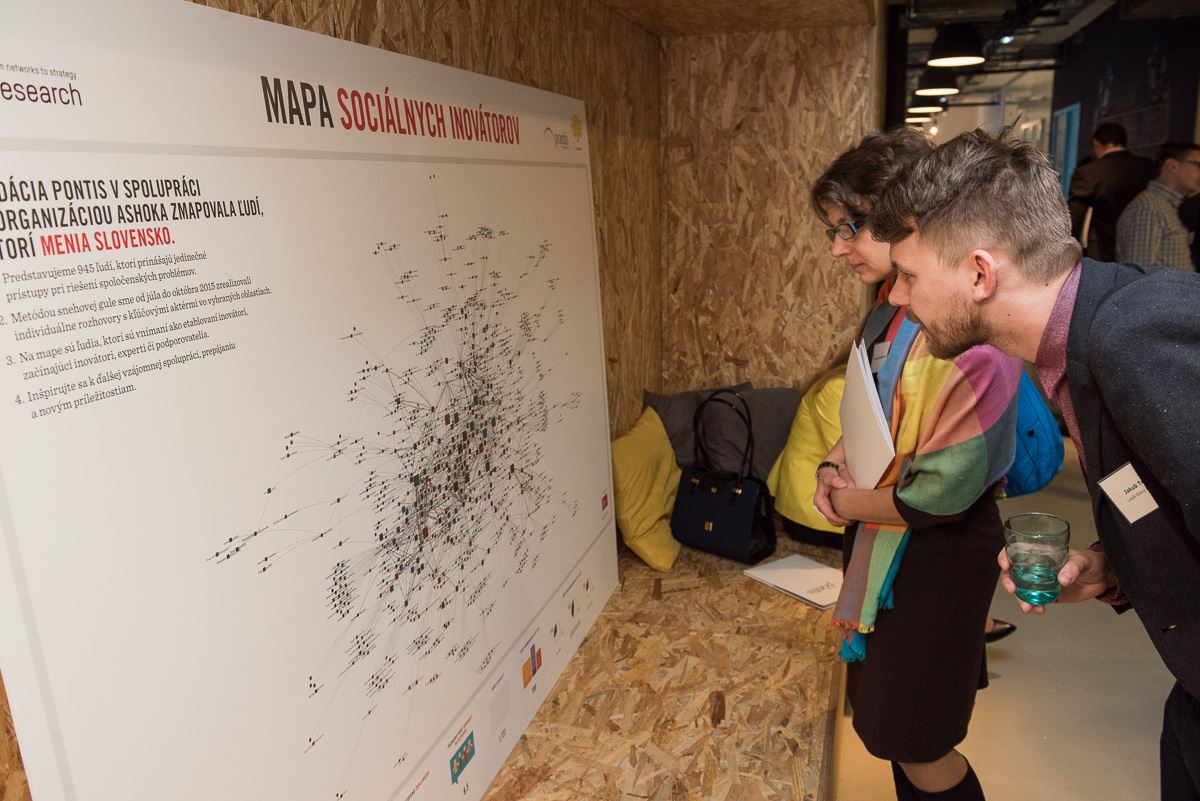 Social Innovation Mapping
In cooperation with international organization Ashoka, Pontis has created a Changemaker Map, as a visualisation of the social innovation network of the country. The Map was based on an extensive database of people bringing about solutions to tackle social problems of the country, all this based on the knowledge and estimation of the communities in question. As a follow up, Pontis Foundation has worked on developing its expertise to better detect the needs of social innovators and to build systems, structures and skills to help achieve social sector excellence.
Taking Individual Philanthropy to a Higher Level
Online grant management portal
Portal Darca.sk makes it much easier to administer community investment, including financial gifts, material gifts, and employee volunteering. Accepting projects and final reports online allow donors to get a complex summary of all inputs and achieved outputs. The portal also allows one to use only the module for measuring community investment without using the online granting module. We administer also a similar portal vecnedary.sk that is focused on in-kind donations management.
Crowdfunding charity portal
DobraKrajina.sk is a crowdfunding charity portal administered by Pontis Foundation. Since 2009, we have provided professional fundraising tools and counselling to more than 120 non-profit projects which fundraised over 450 000 euros. By strengthening fundraising skills of Slovak NGOs we fight poverty, improve education, integrate socially disadvantaged in society, expose corruption, protect nature and support disabled people.
NGO Sustainability Index
Pontis Foundation prepares for USAID an annual report on the legal environment, organizational and financial capacity of NGOs in Slovakia. We measure improvements in advocacy, infrastructure and public image of CSOs.
In case you are interested in the services of our professionals, please contact us
Thanks for your interest, we will contact you soon.