Attorneys Pro Bono
Lawyers and law firms provide pro bono legal assistance for the benefit of non-profit organizations and their clients.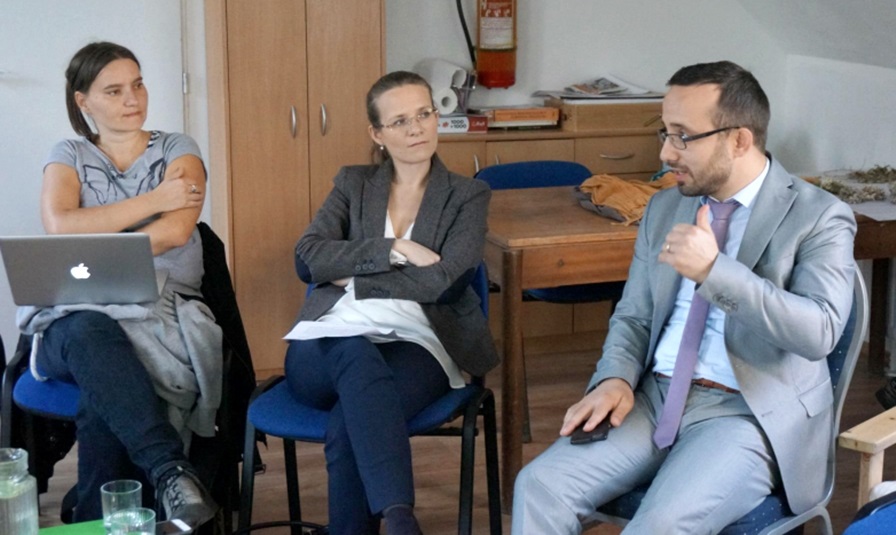 The Attorneys Pro Bono programe, managed by the Pontis Foundation, provides non-profit organizations and their clients (people from marginal, endangered and disadvantaged communities) with an opportunity to ask for free legal help. Its lawyers are willing to help find publicly beneficial solutions, protect human rights, and solve legal cases of public interest. The programme is open to all attorneys operating in Slovakia. We are a co-founder of the European Pro Bono Alliance, and have cooperated with PILnet (The Global Network for Public Interest Law) since the launch of the programme in May 2011.
It is already the sixth year that we have been connecting attorneys with people and NGOs in the need of legal assistance who lack the resources. Law is means to ensure just society, to protect the weaker ones and to guarantee equal treatment for everyone. Up till now, more than 60 attorneys helped more than 160 NGOs. Help us cultivate and spread the culture of pro bono, reinforce fair society, and legal awareness of the non-profit sector.
If pro bono became a common practice in legal profession, the non-profit sector would gain greater importance and its place in society would be stronger than ever. NGOs would be more willing to face demanding challenges while attorneys would feel satisfied and proud to carry the power to bring about positive change in the society.
Legal issues non-profits need help with:
institutional legal support (legal assessments and legislative proposals), consultancy, and representation
legal support for clients of non-profits
legal training for non-profit employees on property seizure, personal data protection, intellectual property rights, legal strategic thinking, and legal argumentation)
Law students helping pro bono
Every semester, more than 20 law students have the opportunity to solve real legal challenges of non-governmental organisations (NGOs). Under the supervision of our attorneys, the students work on legal cases of public-welfare character. The course aims to shape new generation of attorneys who are interested in public issues, have critical thinking and focus on important real needs in our society.
Topics aiming for a systemic change
Tackling homelessness
After two and a half years of work on the issue, the attorneys submitted their official comments to the amendments of three laws and one national strategy. They pushed the propositions forward to Ministry of Justice and managed their incorporation into the amendment which enables homeless people debt elimination. The new piece of legislation enables the target group to start working again, pay taxes, and live their lives fully.
The rights of the children with disabilities
Currently, we are preparing to launch a strategic litigation project. The attorneys will help children whose rights have been violated. If you know a case which could be relevant for this method, please contact us.
Legal assistance for homeless people
This unique project, first of its kind in Europe, helps homeless people to solve a wide range of legal problems which result in trouble to find a job, accommodation, and practically makes it impossible for them to integrate back to the society.
"I really liked the concept of cooperating in the trinity attorney – social worker – client. Providing legal assistance isn´t the only objective of the programme; the value lies also in increasing the legal awareness of social workers." (Katarína Matulníková, Allen&Overy)
Pro Bono Marathon
Throughout the whole year we cooperate with companies and NGOs and so we know both segments very well. Once a year we organize a 12-hour event, in which we bring these two sectors together. Teams of attorneys and other experts from business environment offer their know-how to NGOs in different areas such as communication, business strategy, IT, marketing or law.
Pro Bono Trainings for NGOs
In 2016, 84 participants from 65 NGOs took the opportunity to participate in 6 free 3-hour trainings. Attorneys educate NGOs and schools on selected topics throughout the year.
Newsletter
Members of the programme have online access to the current requests for legal assistance from NGOs.
Seminars/trainings/discussions
We prepare seminars and legal trainings in cooperation with experts from civil sector: Child friendly judicial system/ Systemic barriers in addressing homelessness in Slovakia/ Pro bono systemic help and human rights/ The quality of judicial resolutions/ Immigrants and their rights – from conventions to practice/ National Convention on the EU in Albania/ Law and protection of interest of persons with disabilities.
For more information, please contact us.