Expert in entrepreneurship: Children need to learn that education does not end with school
Marián Holienka has been involved in business education for many years. He now develops entrepreneurial skills in children in our Open Future programme. Marián says that not every child has the opportunity to learn this skill at home or in his/her community, so it is good if it is taught in school or extracurricular activities. Because entrepreneurship helps us do the things we enjoy the most.
What skills do you consider to be the skills of the future?
The first is entrepreneurship. I think it is very necessary for future work and also in personal life. It helps us do things that we enjoy, in a way that we enjoy. I also think that a very important ability is to be able to work with one-self – to know myself, what I enjoy and to be able to set up my life and activities so that I enjoy them and they bring me satisfaction.
This is what we touch on especially in soft skills. We show children how they can grasp life so that it entertains, fulfils and motivates them. It is also very important for children to realise that they will need to continue learning throughout their life, be fine with it and remember that education does not end with school. Last but not least, the skills of the future are also digital skills, namely the ability to navigate in a digital environment, but also the ability to use digital technologies.
How do we get these skills to each student?
One of the ways of how students can access these skills is informal – when they encounter these topics in their immediate environment or family. This is a natural way, but not everyone has the opportunity to experience, for example, entrepreneurship. In this case, it is very good if someone can teach this to them at school or after school. At school, if there is attention to the topic, there is a tutor, mentor, counsellor who can grasp it. Alternatively, these topics can be entailed in the curricula or extracurricular activities.
Why is it necessary to place more emphasis on experientiality in education and to better link non-formal and formal education?
I think that there is a clear need to link non-formal and formal education. Formal education has its importance and role, but it also has its limitations and boundaries in how far it can or cannot go in different topics. This is where it can be very well complemented by non-formal education. It can react more flexibly. It is unlimited by the space and scope in its work with children. Moreover, when I said that life will be about learning, much learning does not end with formal education but continues in an informal context. Learning to work in a non-formal learning environment, educating yourself and learning to learn is very important. In our programme, we want to create a place for children to feel good, where they go for advice, and that is why we choose non-formal extracurricular education. We find it effective because the children who come to us want to learn and they are motivated. Many things from our curriculum can also be combined with formal education.
What is the most important thing that children will learn in the third year of the Open Future programme?
I think the third year is mainly about deepening our three main focal points – digital skills, soft skills and entrepreneurship. We also want to offer children certain modularity and freedom in choosing topics that interest them and in which they want to develop further. For entrepreneurship, I can say that we will pay attention to consolidating competencies related to the implementation and development of projects. In our topics, we will focus on financial and business literacy, sustainability and ethics, as well as communication and presentation of their projects. The main topic with which we are already at a very strong intersection is social innovation.
The children will work on their own social innovation, which should help solve a problem in their surroundings and their communities. How to sensitise young people to the needs of their communities, and why is it important?
We believe that there are certain things in the environment and in our communities that could be done better so that we can live more sustainably and live better in the future. We are aware that some approaches to date are unsustainable and lead to a deterioration in the quality of life for all of us. In fact, it is children who have a natural interest in these aspects. They are worried about it. They feel that it concerns their future. Hence, it is necessary to work with them because they are the ones who will decide about these issues in the future. It is also important that they are aware of this reality and that they want to solve these issues or at least contribute towards their solutions with what they can offer.
We also try to change the view of those who do not perceive these things or are not aware of them. We teach them to keep their eyes open, to watch what is happening around them and to be able to understand it. We try to show them that they are able to name and identify these things. We lead children to be empathetic to the people for whom they want to create something, to be able to understand their needs and what those needs are based on. We learn to implement things in a way that helps create value for others, whether it is groups of people, the environment, or it relates to cultural and social values.
To conclude, I have one more important question. What do children need in the time after the pandemic?
This is a very difficult question. Children need what all people need, and that is closeness and belonging. The pandemic set boundaries to that. What we were used to was not a matter of course anymore. We face a strong need to deal with this. I also think that children still need to believe that the world is a good place, and they need to be optimistic and hopeful. I believe that it will be okay and that it can be even better. What is more important is that children can contribute to it and participate in the change-creation.
Who is Marián Holienka?
Marián works as an associate professor at the Department of Strategy and Business at the Faculty of Management of Comenius University in Bratislava. In pedagogical and teaching activities, he focuses on the issue of entrepreneurship education, training and the development of entrepreneurship and entrepreneurial skills. He is a professional guarantor of the Open Future programme in the field of entrepreneurship.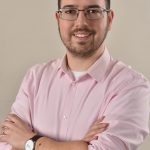 We can strategically develop the Open Future programme at the Pontis Foundation thanks to the Telekom Endowment Fund, our general partner.
Marián Holienka was interviewed by Miriam Šelepová, a project manager of the Open Future programme. The text is part of a series of interviews with professional guarantors of the programme. The interviews aim to demonstrate how we work with children, what they learn and what skills we emphasise.