Giving Tuesday showed that people wanted to help in 2020, too
"#GivingTuesday inspires people to charity and caring for their environments. It draws attention to values to which we should pay more attention throughout the year. The amount raised proves that people want to help each other even in difficult times," Michal Kišša, Executive Director of the Pontis Foundation, says.
Most funds were raised through the Darujme.sk and LudiaLudom.sk. People had sent more than 38,000 euros out of a total of almost 47,600 euros through these websites. The remaining amount consists of registered corporate donations.
The number of non-profits has increased dramatically
"In 2020, 167 civic organisations signed up for #GivingTuesday, an increase of more than 50 percent over the last year. Here, too, we see that the time of the coronavirus pandemic brought increased demand from organisations for support, be it financial or non-financial," M. Kišša explains. More than a third of non-profits also asked for material donations, volunteers or exchange of experience.
For example, the non-profit organisation entitled Family Centre appreciated that, besides the financial contribution, they got new volunteers and an amount of necessary items.
"We were surprised by a courier who had brought four crates of food and drugstore goods, which we had not ordered. At first, we didn't want to take them from him. It wasn't until a while later that we realised that someone had bought things online, paid for them, and had them brought directly to our community centre. It was a new and very nice experience for us," Alžbeta Šporerová, Director of the Family Centre, describes.
Gréta Čandová from the Dedo Foundation also recommends this initiative. She focuses on helping families in need and has participated in #GivingTuesday. "The idea is really unifying, and there is surely something to it. We didn't have high expectations, and we were hesitant about whether people would react when showered with the Giving Tuesday from all sides, but we were pleasantly surprised. There is no need to be afraid," she says.
They collected 6 tonnes of clothes and other necessities
An important dimension of #GivingTuesday is connecting non-profits with companies. In 2020, up to 47 companies joined the initiative. Many organised more activities.
"At the occasion of #GivingTuesday, we decided to donate fruits and vegetables to selected homes for the elderly in Slovakia. Together, we donated almost 500 kilograms of fruits and vegetables to help them in these difficult times. Through the Christmas Food Collection, we help people in need and local organisations. We will support them again this year through the grant programme You Decide, We Help Even More," Veronika Bush, Director of Tesco Communications in Slovakia, adds.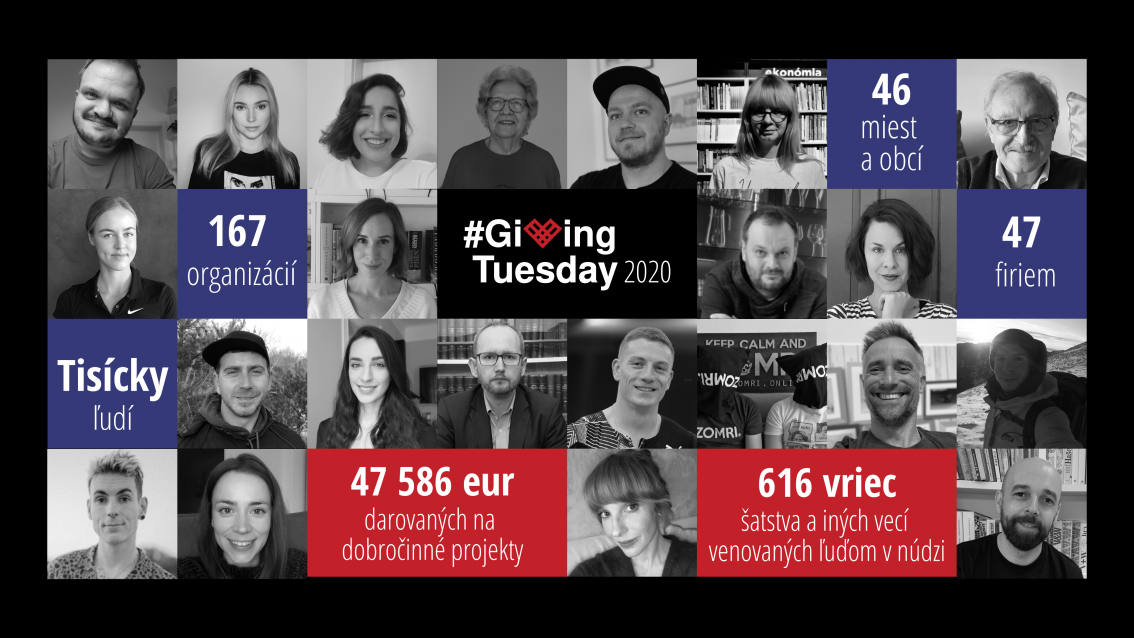 23 companies joined the fall collection of the Companies to the Community programme administered by the Pontis Foundation. As part of this activity, 616 bags or 6 tonnes of clothing, drugstore goods, kitchen and school supplies were collected. Thus, three companies supported 23 helping organisations and three families of the Heart for Children programme. The aid went, for example, to Hnúšťa, Rožňava and Orava.
Municipalities involved the general public
Municipalities also joined #GivingTuesday. Good deeds took place in 46 towns and villages all across Slovakia. Among the most popular activities carried out by local governments were collections of clothing, food and hygiene items.
"This year, the largest number of donors has joined our drugstore goods and food collection, all the more so to feel people's belonging. Apparently, it is a coronavirus pandemic, in which we are all united, without distinction. We were especially moved by the donation and help from the children's department in the hospital," said Júlia Jančurová from the Municipal Office of Spišská Nová Ves. The city collection was also open to the public and involved 90 families and individual donors, who helped 60 clients of social services facilities and centres for children and families.
In 2020, #GivingTuesday was supported by several personalities, such as Táňa Pauhofová, Kristína Tormová, Gabriela Marcinková, Tomáš Hudák, František Kovár, athletes Anna Karolína Schmiedlová, Ján Volko, Maroš Molnár, comedian Števo Martinovič, instagramers such as Blue Grandma, Moma, Expl0ited, photographer Patrik Paulínyi, food bloggers Čoje and Surová dcérka, but also an adviser to the President of the Slovak Republic Peter Bátor.