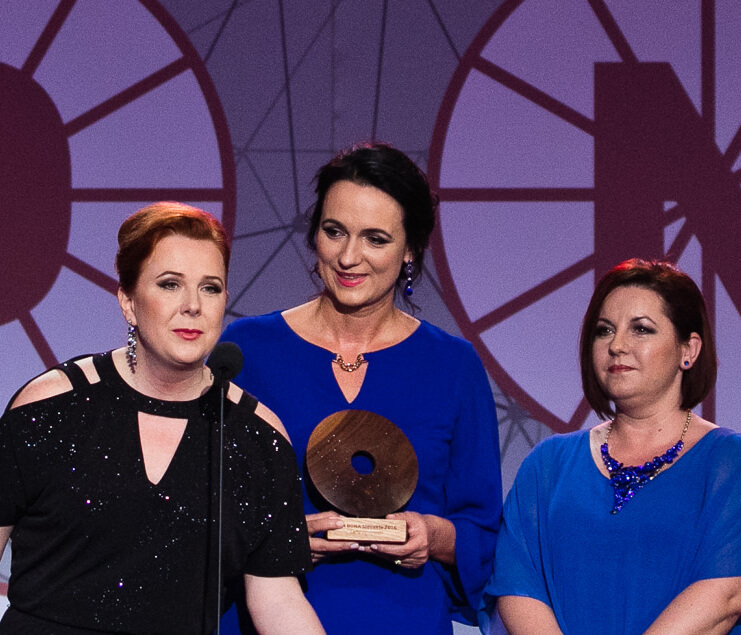 Previous Winners of Via Bona Slovakia
2016
Via Bona Slovakia Award 2016 Winners
The Pontis Foundation has handed out its annual Via Bona Slovakia Awards for CSR for the seventeenth time. This year is the first time it has also presented a Social Innovations Award.
A gala evening showcased companies which voluntarily and beyond what is required by law help their surroundings, employees, or the business environment in which they operate. "The general atmosphere in Slovakia is that of frustration with the current situation. We can fight it with positive examples that would reassure us that there are many nice and meaningful things happening. The companies which have received the Via Bona Slovakia Awards bring such examples," says Lenka Surotchak, the executive director of the Pontis Foundation.
The highest number of large companies nominated
Altogether, 71 small, medium-sized, and large companies from all over Slovakia had been nominated for the Via Bona Slovakia Award. The Pontis Foundation had received 10 nominations in the category Responsible Large Company, a record for the category in the history of the awards. The awards were presented in 6 categories. In addition, the Foundation handed out the Public's Choice Award, chosen by the readers of the SME daily, and the Social Innovations Award. The latter had been awarded for the first time and had been intended for projects with the potential to change how we deal with a long-term social issue.
Who has received the Via Bona Slovakia Award
The award for a Responsible Large Company went to Kia Motors Slovakia s.r.o., a company which has been long-term trying to be a responsible employer and producer. For ten years the company has been implementing a unique concept of 'harmony rooms', consultancy rooms situated directly in production halls. It offers its employees a possibility to get actively involved in the improvement of the work environment and workplace relations. In addition, the company focuses on the production of environment-friendly cars. The company also provides long-term support to the region where it is based, for example by funding projects or supporting its employees' volunteerism. The company is also aware of the necessity to support young people's education; therefore, it has been actively collaborating with secondary vocational schools and universities.
Ošetrovateľské centrum, s.r.o. was named a Responsible Small/Medium-Sized Company. Their corporate social responsibility is motivated by their conviction that senior citizens deserve the best care. Three facilities – the nursing centre Ošetrovateľské centrum, s.r.o., the civic association Ošetrovateľské centrum, and the social service facility Slnečný dom, n.o. – move the boundaries set out by legislation and look after seriously and long-term ill people.  Ošetrovateľské centrum, s.r.o. is also trying to initiate a national project to support and develop quality in long-term care and bring more light to social service facilities through satisfied nurses. For years it has been developing a Strategy to Permanent Employee Satisfaction and Pleasant Work Environment.
Ošetrovateľské centrum had also been successful with the readers of the SME daily and received the Public's Choice Award.
The award for a Fair Market Player went to METRO Cash&Carry SR s.r.o. for its responsible and fair approach to suppliers and customers as well as its long-term support of small local suppliers. The food wholesaler targets retailers and restaurant and catering service providers. The company's vision "We Help Entrepreneurs Grow" had given rise to a tradition of celebrating all small entrepreneurs, not only its customers. They had been invited to nominate one of their pro-customer actions, which METRO Cash&Carry SR then helped to promote.
2brothers s.r.o. was named a Green Company for its project Green Bicycle. It is a bike-sharing scheme which reduces the environmental footprint, encourages healthy habits in people, and reduces levels of traffic in towns and cities. The pilot project had been launched in the town of Prievidza, which received an Effective Sustainable Solutions Award from the Slovak Ministry of Environment. One of the aims of the project is to actively communicate with towns and cities and help them find eco-friendly options of short-distance transport.
The award for a Good Partner for the Community went to the company NOSENE, s.r.o. NOSENE responds to several social issues. One of them is the current trend of "fast fashion". Besides selling second-hand clothing, the company remakes less suitable pieces of clothing to a brand new look. By buying the company's products, customers not only get nice and unique pieces of clothing, but also behave like environment-conscious people and do not put strain on the environment. In addition, they help mistreated women, because 15% of the price of each sold product goes to the My Mamy civic association based in Prešov.
A certificate of merit was also awarded in this category. It went to the companies Squire Patton Boggs s.r.o. and bnt attorneys-at-law s.r.o. for achieving a systemic change in debt discharge and personal bankruptcy.
The award in the category Great Employer went to IKEA Bratislava s.r.o. In April 2016 the company organized a special event aimed at the development of its employees' personalities and talents. 26 interactive lectures and workshops using online tools and face to face interviews helped the employees to learn about themselves and the growth opportunities that IKEA offers in Slovakia and abroad. The sessions involved or were led by IKEA's managers and leaders to make the themes authentic and practical. The event was followed up by the Talent Week, which was meant for job applicants. The company's employees can further continue in the Development Centre, where they get objective feedback. For the whole year they then work on improving their weaknesses under the guidance of their superior.
A certificate of merit for adding a human dimension to a corporate culture went to Soitron, s.r.o. and its project of SoitronX conference.
The Social Innovations Award went to Jem iné SK, s.r.o. and its project "Food Revolution". Its aim is to promote the importance of healthy and regular eating. The most important group that Jem iné works with on a daily basis are children. The company operates "the first private school canteen" and a cooking school where they teach and prepare food for children. Every day the company supplies healthy meals to 20 private kindergartens and trains dozens of children in the cooking school. It strives to improve food culture at all Slovak schools, both private and public.
The awards are decided by an independent jury
The most inspiring CSR examples had been selected by independent juries composed of representatives of the business sector, public administration, media, non-governmental sector, and educational institutions. They had considered the companies' nominations and personal presentations in two rounds. The Pontis Foundation announced the results during a gala evening in Stará tržnica in Bratislava, which was also attended by Slovak President Andrej Kiska. The gala had an atmosphere of connection and cooperation.
2015
We know the responsible companies of 2015: Pontis Foundation handed out the Via Bona Slovakia awards
The Pontis Foundation handed out the 16th annual awards for companies doing business with a higher interest than that of earning a profit.
The 2015 winners of Via Bona Slovakia help their surrounding and employees. They respect the environment, they fight against corruption, and they deal with socially important topics, all willingly and beyond what is required by legislation.
"Our goal is to show all entrepreneurs in Slovakia that honesty and business go hand-in-hand, and that doing business can have a visible contribution to the society and the country," said Lenka Surotchak, the Pontis Foundation's director. This year eighteen companies from different regions of Slovakia were in the running, which was the highest number of small and middle companies engaged in the awards so far. "Our country will flourish when everyone will look after it. We are very glad that many companies acknowledge this and that they are contributing to society with their corporate social responsibility. Also, through the Via Bona Slovakia awards, we want to show that there are many people in business who take care of their employees and who support activities in their local communities," Surotchak added.
Heineken and Taylor Wessing become the most inspiring companies
Heineken Slovakia received the Responsible Large Company of the Year award. The goal of this beer producer from Hurbanovo is to become the greenest brewery in Slovakia by 2020: that is why it is focusing on protecting water sources, decreasing carbon dioxide emissions, using local foodstuffs from sustainable sources, supporting responsible beer drinking, protecting employees' health and safety, and, last but not least, developing the communities in which the company operates. Heineken is aware of the fact that the alcohol contained in beer can cause health, social and economic problems if drunk irresponsibly. This is why Heineken is trying to spread information about reasonable consumption. Besides running public awareness campaigns, they refrain from placing their advertisements near schools, kindergartens or health care institutions, and in their advertisements they only employ actors who appear older than 25 years of age.
The Responsible Medium Company of the Year award was scooped up by the Taylor Wessing law firm, which tries to enforce a clear and transparent business environment and good law enforcement. They provide counselling for non-governmental organizations and media, and they participate in pro-bono projects whose aim is to improve the legal environment in Slovakia. They are also responsible when it comes to choosing their co-workers. "Our company does not use the mandatory five-year practice of trainee lawyers to secure cheap labour. We consider people as the most important asset in our firm, and every partner invests a big part of his time in training and cooperation with younger colleagues," said Radovan Palla, one of the law firm's partners.
The Pontis Foundation awarded the Dobre&Dobré company with an honorary certificate in the category of Responsible Small/Medium Company for bringing homeless people back into society. In addition to the honorary certificate, the Dobre&Dobré café also received the public award for setting the best example in responsible business as voted by the readers of the Sme daily newspaper. The café was created on the initiative of the Vagus association, and it employs homeless people who can thus get a feeling of self-respect, fulfilment and the urge to launch into everyday life.
GreenCoop and JRK Waste Management have become green companies
The jury decided to give two awards in the Green Company category: one for a large company and one for a small company. GreenCoopfrom Zlatná na Ostrove, a cooperative that supplies to the market more than 10 million kilograms of local tomatoes a year, won the large green company award. Not only do they try to produce healthy crops, they also try to grow them in an eco-friendly fashion. They have been building greenhouses equipped with the most modern affordable technology for ten years. They are also trying to restore old greenhouses and make abandoned geothermal drill rigs, out of which hot water often flows uncontrollably into the ecosystem, operational once more.
The other green company to receive an award was JRK Waste Management, whose aim is to reduce the amount of mixed municipal waste by increasing its separation. Since 2010 the company has been working with municipalities and individuals to encourage home composting. In 2015 it reduced the amount of greenhouse gases by more than 4000 tons and prevented the landfilling of almost 650 thousand hectolitres of biodegradable waste.
An abattoir is building flats for its employees
The HSH abattoir in Veľké Zálužie received the Great Employer award. It builds flats and houses for its employees. The relationship between employer and employee is very important for society, and this is why they offer their employees various benefits, including free breakfasts and the possibility of accommodation in terraced houses near their place of work. HSH also tries to help its employees by means of interest-free loans.
Companies from Banská Bystrica, Banská Štiavnica and Košice were also awarded
PayLess Consulting from Banská Bystrica received the Fair Market Player award. Their aim is not to create barriers between operators and clients, but rather to help clients reduce the costs of telecommunication services in an efficient way. Their efficiency and fair approach is also reflected in their free provision of these services to civic associations. Another interesting fact is that while 50% of a client's saved costs are used as remuneration for PayLess, if the client does not save anything, PayLess does not claim any remuneration at all.
In this category, the Pontis Foundation recognized ARES lifts and platforms from Bratislava with an honorary certificate for their exceptional and fair approach to business, their employees, and the community of disabled people.
In the Good Partner of the Community category, the jury also decided to hand out two awards, one for a large company and one for a small company. The first awarded company was a small construction company called Obnova (meaning "Renovation") from Banská Štiavnica, which specializes in the renovation and revitalization of historical buildings. For example, they carried out works on Orava Castle and on the ruins of Likava Castle. With their motto "We remember historic sites," Obnova tries to point out the fine line between what constitutes destroying the essence of an historic site and having a well preserved site.
Východoslovenská energetika Holding from Košice was the large company to be recognized as a Good Partner of the Community. Its employees help female clients from crisis centres return to normal life by mentoring them and being in regular contact with them. At the same time, they actively take part in the renovation and cleaning of particular centres. The company's employees also organized fund-raising campaigns and joint activities like the baking and selling of Christmas gingerbread.
With its Elderly project, Hewlett-Packard Slovakia won the Supporter of Volunteering category. The company's employees work with a community of elderly people on a long-term basis. Their aim is to make the lives of the lonely clients of a social care home more pleasant, engage them in different activities and socialize them. Both parties benefit from this – the senior citizens look forward to the particular activities with the volunteers, and the volunteers acquire new skilled practice, experiences and feelings.
75 nominations were in the running for the Via Bona Slovakia award for 2015. The most inspiring examples of responsible business were chosen by an independent jury composed of representatives of the business community, state administration, the NGO sector and educational institutions on the basis of company nominations and personal presentations in two rounds. There were awards in seven categories: Responsible Large Company, Responsible Small/Medium Company, Green Company, Great Employer, Fair Market Player, Supporter of Volunteering, and Good Partner of the Community. The eighth awarded company was chosen by the public, who voted on the webpage www.sme.sk. The Pontis Foundation announced the results at a ceremonial gala evening in Bratislava's Refinery Gallery which was attended by the Slovak president Andrej Kiska. The atmosphere of the gala evening was marked by connecting with each other and cooperation.
2014
Via Bona Slovakia 2014 Award Winners
The foundation awarded the prestigious Via Bona Slovakia award in seven categories for the most inspiring projects in the field of corporate philanthropy and corporate responsibility over the past year. The winners of the main prizes were the companies ALFA BIO and Accenture. The celebratory gala evening took place at Bratislava's Refinery Gallery and was opened by the Slovak President Andrej Kiska.
There were 61 nominations put forward for awards. "The projects and approaches of companies that are something exceptional, helping the surrounding community, employees, respecting the environment and fighting corruption and addressing the challenging topics with Slovak society. At the foundation we believe that the stories of winners can inspire other companies," says Lenka Surotchak, director of the Pontis Foundation. Many companies go about their business by pushing beyond their obligations and try to make a contribution to their surroundings.
The jubilee 15th anniversary of the awards were also ground-breaking in that it has so far signed up the most small and medium businesses, including Slovak companies without foreign capital participation. "Among the winners there are several projects from companies in economically weaker regions of Slovakia, such as Banská Bystrica, Trebišov or Partizánske. This also shows that you can encourage people towards personal growth, interest in their surroundings, and a responsible approach to the environment," said Lenka Surotchak.
The Foundation has awarded during the gala evening under the name 'Meeting with Silence', which presented an untraditional meeting of light, music, dance and silence. This included deaf actors from the Theatre Silent Sparks (Divadla Tiché iskry). The gala evening was directed by Viera Dubačová and its dramaturgy put together by Jozef Lupták and Ján Šicko.
Responsible Large Company in the year of 2014
The winner of Via Bona Slovakia in 2014 in the category of Responsible Big Company is Accenture (Bratislava).
Accenture, s.r.o.
The Accenture Way
A provider of professional management advisory services, ICT and outsourcing also well known for their active approach towards responsible entrepreneurship in Slovakia.The corporate citizenship strategy was built around five pillars – company management, supporting and investing into education, environment conservation, employees and contractors.
Conduct integrity and prevention of corruption are corporate principles.The Code of Conduct applies to both employees and contractors.The "Skills to Succeed" plan helps people develop their skills with the aim to improve their position on the labour market.With decreasing the environmental footprint as a goal, Accenture uses computer technology, looks for alternative ways to travel and supports sustainable development of their contractors as well.
Employees are Accenture's most valuable asset, which is why they are provided the right conditions for work-life balance.Accenture supports corporate donorship and volunteership.In 2014, Accenture supported 90 organisations.In cooperation with Aptech Europe, Accenture trained 41 unemployed persons, of which 22 managed to get a job by the end of the year
Pontis Foundation, in the category of Responsible Big Company has given a honorable mention to Partizanske Building Components-SK for their authentic interest and enthusiastic help provided to their community.
Partizánske Building Components–SK s.r.o.
Value-based company
Loyalty, mutual respect, improvement, engagement in local initiatives and thoroughness are values of Partizánske Building Components, a manufacturer of roof windows, light pipes and roof hatches operating under the VELUX brand.Their aim is to be the employer of choice in their region.
Chill-out rooms were introduced in all production halls and the final product warehouse.Manufacturing employees shift their positions no less than 4 times a day to prevent a monotonous workload and improve concentration at work.When selecting indirect material, contractors from Partizánske and near surroundings are preferred, which improves employment in the Trenčín region.
They have implemented and certified an environmental management system pursuant to the provisions of ISO 14001:2004.All their decisions are transparent and in line with the code of conduct, which can be well seen on how employees are informed on management decisions, occupying free positions and selecting contractors.They support local initiatives and help improve the quality of life in their town.
Responsible Small/Medium-sized Company in the year of 2014
The winner of Via Bona Slovakia in 2014 in the category of Responsible entrepreneurship in small to middle size companies is Alfa Bio (Banská Bystrica).
ALFA BIO
The birthplace of Tofu
Health in your kitchen. This idea was behind the company established by Ján Lunter back in 1991. Ever since, vegetable food production has been their daily agenda.
A small company originally seated in a small detached house has grown to an international company with offices in Hungary, Poland and the Czech Republic. They take proper care of their more than 100 employees. A good indicator of this being true is that 31 percent of all employees have been with the company for more than 10 years.
ALFA BIO thinks green as well. They have built their own well, which helps them not to burden the city water reservoir in peak seasons, used water is recycled and reused several times. In 2014 a new automatic large paper and plastics press was put into operation. For over 10 years, they have their own CNG station. Thanks to CNG-driven vehicles, they managed to save up to 25 percent of their CO2 emissions against petrol driven ones and as much as 40 percent of costs compared totraditional fuels. A Call centre was introduced in 2014 to improve customer services.
Green Company in the year of 2014
Winners of Via Bona Slovakia in 2014 in the category of Green Company are Cyklokuriér Švihaj Šuhaj (Bratislava, Košice) and Marius Pedersen, a.s. – pobočka Zvolen.
Švihaj Šuhaj s.r.o. bicycle courier services
Cargo bicycles
Švihaj Šuhaj provides environment-friendly courier services in Bratislava and Košice. By using exclusively bicycles, they managed to eliminate all CO2 emissions. This way, they improve the environment and climate in both cities.
Two years ago, Švihaj Šuhaj introduced the idea of supplying shops and stores located on the Bratislava pedestrian zone, which is mainly conducted by vans. Vans pollute the environment, damage the cobble pavement and threaten pedestrians.
Today, Švihaj Šuhaj supplies the well-known Bratislava Foxford café, the Zrnko sheltered café and bakery and the Samay Coffee coffee-roasting plant located on the pedestrian zone. Coffee, cakes, beverages, fruits, vegetables, bread, coffee machines and books are among the most transported commodities.
Marius Pedersen, a.s. – Zvolen office
Dustmen for Kids
Marius Pedersen disposes and recycles waste by means of cutting edge technology.All around Zvolen and the Podpoľana region, they started several volunteering activities aimed at enjoyable environmental education of children and teens, as well as professional assistance with disposing of unauthorised waste disposals.
First activities for children date back to 2007, when they cleaned 1.5 kilometres of a streambed and disposed of approximately 2 tons of waste free of charge.Besides practical work, they started introducing educational workshops, waste paper and plastic salvage, excursions, competitions and other environmental activities.
They managed to include both children and adults into activities aimed at removing unauthorised waste disposals from nature.
This plan is a volunteer project of the Zvolen office employees.
Great Employer in the year of 2014
Winners of Via Bona Slovakia in 2014 in the category of Great employer are Accenture (Bratislava) and DeutschMann InternationaleSpedition (Trebišov), who also received a public award.
DeutschMann Internationale Spedition s.r.o.
Motivating employees to develop
Eastern Slovakia has been struggling with a churn of talents for many years. The forwarding company DeutschMann Internationale Spedition from Trebišov created the "Progress Board" education system, which enables providing up to 600 workshops by as few as two employees. This enables to fully train up to 80 new employees annually to any single position besides the regular training of all existing colleagues.
The result is that employees started intensely working at their skills, perform great at work and have also improved their personal lives. Even the most reluctant learners have become enthusiast students. As the average age of their employees is 28, the company often makes good for what the school failed to provide. Thanks to the "Progress Board" system, they can employ an unskilled person and help them to success never even hoped for.
Accenture, s.r.o.
Enjoy your life with Accenture
In Accenture, it's people first.Accenture wants to attract and keep the best people by giving them the best possible work conditions.In Accenture they focus on two areas: work-life balance of employees and supporting women.
Enjoy your life with Accenture provides employees with an option to select the time, place and way to work.The respective phase of the employee's life is always taken into account,no matter if you are a mother returning from maternity leave, a project employee working abroad or a colleague returning from a long-term absence.Women and their position in the company enjoy special focus.Almost 50 percent of all employees are female.
A unique aspect of education in Accenture is the "leaders teach leaders" approach, whereas many workshops are led by employee leaders based on their own experience.Each employee has their own Personal career counsellor – a more senior colleague.The "Skills to Succeed" project helps aid the global requirement to develop personal skills required to get a job or start an own business.
Accenture grows in line with its environmental strategy, the focus of which is efficient operation, sustainable growth and providing knowledge required for a sustainable growth of their customers.
Fair Market Player in the year of 2014
The winner of Via Bona Slovakia in 2014 in the category of Fair Market Player is Ten Senses (Bratislava/ Nairobi).
Ten Senses Ltd.
Support for Fair Trade
Ten Senses helps to improve the lives of farmers in developing countries. Through Fair Trade, the farmers are given a stable price, long term contracts and money for the development of their community. Ten Senses' first product was coffee, which they roast in Bratislava and is the only local fair trade coffee available in the Slovak market.
In Nairobi, Kenya Ten Senses owns and manages a factory for processing macadamia and cashew nuts. They reacted to the unfair conditions forced on Kenyan farmers who were exploited due to their ignorance of the market and were selling their product for a low price. Their factory employs 300 women from a nearby slum, and for many it is the first chance in their lives to have dignified and safe work.
Supporter of Volunteering in the year of 2014
Pontis Foundation, in the category of Supporter of Volunteering has given a honorable mention to bnt attorneys-at-law (Bratislava) for effective pro bono solution to the urgent problem in residence Kopčany in Bratislava.
bnt attorneys-at-law, s.r.o.
Pro bono services
Over the last year this law firm provided several pro bono services free of charge. One of the successful cases was their cooperation with Ulita, a civic association working with children and young people from marginalized groups in Bratislava.
The attorneys helped with a case when a contractor failed to finish building a playground, breaching the contract. The contractor started with the construction but despite the received deposit they did not finish it. The company eventually stopped communicating with Ulita, and the association joined the Pontis Foundation's Pro Bono Attorneys programme. Because the matter was urgent, bnt took over the case. The construction company refused to communicate with the attorneys but thanks to their experience with similar cases, Ulita in cooperation with bnt managed to win the case.
Good Partner for the Community in the year of 2014
Winners of Via Bona Slovakia in 2014 in the category of Good Partner for the Community are Embraco Slovakia (Spišská Nová Ves) a GlaxoSmithKline Slovakia (Bratislava)

Embraco Slovakia, s.r.o.
Embraco Ecology Award
Embraco Slovakia is located in a region which is a gateway to the Slovak Paradise mountain range. Because they want this piece of paradise to serve everyone, they take the protection of the environment very seriously.
In 2008 they started a grant programme focused on environmental education – the Embraco Ecology Award. In first years they concentrated on supporting primary schools in Spišská Nová Ves region, but since 2012 kindergartens in the city have been included too. This school year, kindergartens from the whole region submitted their projects. The projects often go beyond the topic of ecology. Not only pupils but the entire community is getting involved, bringing diversity and inclusion of various pupils. During 6 years Embraco supported the projects of 20 schools and 6 kindergartens with EUR 32,289. Over 6,000 people in the region were positively influenced.
GlaxoSmithKline Slovakia s.r.o.
Step two – Schools without bullies
Aggressive children have become a hot topic in media recently. According to surveys on elementary schools, bullying, aggressiveness, attacks on teachers and intolerance towards differences is what teachers, children and parents fear the most. As a response to this alarming state at schools, GSK introduced their "Step Two" project.
Within this project, students learn to have an open talk with their duly trained class teachers during Ethics classes on their emotions and their classification and how to distinct between good and bad ones. Results have shown that thanks to the Step Two project, students are able to manage aggression, anger and conflicts in a much better way and are also able to resist bullying. The "Step Two" project is aimed at children at kindergartens and elementary schools. Overseers of this project are school psychologists from the Profkreatis NGO. This project is also supported by mayors of county towns.
Thanks to the financial support provided by GSK amounting EUR 71,966, this project was introduced to 54 elementary schools and altogether 96 teachers were trained. More than 155 schools have joined the "Step Two" project so far, so if we take an average of 20 students per class, approximately 3,000 children (and their parents) from elementary schools all over Slovakia have been involved with this project.
The members of the evaluation committees Via Bona Slovakia 2014
Green Company
Monika Bandúrová, Andrej Kovarik, Martin Kováč, Marcel Lauko, Peter Robl, Hana Šimková, Jozef Vodička
Great Employer
Martin Bajaník, Boris Bukovský, Tomáš Hasala, Marta Kahancová, Roman Kurnický, Katarína Matulníková, Ivana Molnárová, Jozef Ondáš
Fair Player on the Market
Martin Mazág, Petronela Ševčíková, Radovan Pala, František Kočan, Marcel Imrišek
Supporter of Volunteering
Juraj Bobula, Erika Dupejová, Andrej Findor, Zuzana Gabrižová,Marian Gliganič, Katarína Šujanová
Good Community Partner
Zora Bútorová, Daniela Danihelová, Martin Filko, Igor Guttler, Eva Kováčová, Monika Lacková, Katarína Schneiderová, Juraj Smatana, Martin Vavrinčík
Responsible Small/Medium-sized Company
Lukáš Bakoš, Gabriela Dubcová, Peter Halák, Eva Hipšová, Ján Pallo, Daniel Pitoňák, Martin Štrba
Responsible Large Firm
Michele Bologna, Zuzana Čaputová, Andrea Danihelová, Andrea Ferancová-Bartoňová, Pavel Sibyla, Marcela Šimková, Tatiana Švrčková
Via Bona Slovakia Partners for 2014
The Pontis Foundation wants to thank every partner, that financially or any other form of support the 15th year of Via Bona Slovakia.